Creating an evergreen nature study for your homeschool is a fun way to learn during the holidays or anytime of year.
We pass a local Christmas tree farm every time we leave our house. All year long, my youngest will point it out. Every single time we pass by. He is quite the fan.
Unfortunately we only visit the Christmas tree farm once a year when we cut down that year's tree. Luckily, though, evergreen trees can be found all over. So they make a great winter nature study topic for your homeschool.
This post may contain affiliate links, which means I may receive a commission, at no extra cost to you, if you make a purchase through a link. Please see my full disclosure for further information.
Once the leaves of deciduous trees have fallen, evergreens are a welcome sight of green among a sea of brown. This makes an evergreen nature study perfect for the winter, though they are a great nature study topic any time of year. Continue reading for ideas on how to study evergreen trees, including a Christmas tree study, and also fun ideas for pinecones.
How to Create an Evergreen Nature Study
Adding a nature study to your homeschool is a great way to teach kids about the world around them. However, it doesn't have to be complicated or time-consuming.
Nature study can be done in the afternoon or even on weekends. We like to include nature study during our morning basket time a few days a week. Generally, we'll do a nature walk (usually just in our yard), read a book or two about our topic, and do a couple of activities. Many times one of the activities includes writing what we've learned or drawing something observed in our nature journals.
I included our evergreen nature study in our December lessons as a part of Christmas school. So it became part of a Christmas tree unit study. The idea came from Mr. Willowby's Christmas Tree online book club by Literary Adventures for Kids. These book clubs are so in depth! Not only did we read the book, but we also dove down so many rabbit holes to learn more about evergreen trees, pinecones, and even some forest animals. The best part is that all of the videos and activity ideas were already chosen for me. All I had to do was open it up and go!
Our Evergreen Nature Study and Christmas Tree Study
Books about Evergreens and Christmas Trees
Mr. Willowby's Christmas Tree by Robert Barry is a wonderful story of a Christmas tree chosen for Mr. Willowby's home. It is too tall, so the top is cut off and given to someone else. The story continues on that way, and in the end, the single evergreen managed to become a Christmas tree in seven homes.
The Year of the Perfect Christmas Tree by Gloria Houston is another lovely story. It's a story of a family whose father is supposed to cut down the church's tree that year. However, after showing his child the perfect tree, he goes off to war. In the end, the tree appears at the church along with a Christmas surprise. This is also a great story for those studying modern times or a world war because you can discuss the lives of those who stayed behind and the sacrifices they had to endure.
Night Tree by Eve Bunting is a story of a family who walks out to a forest at night to decorate a tree for the forest animals. This is a great way to also talk about forest animals and the foods they eat, or to add to a winter bird nature study.
Pick a Pine Tree by Patricia Toht is a sweet, rhyming story about a family who goes to pick out a Christmas tree. Toddlers and preschoolers especially will love this book.
Christmas Around the World by Mary D. Lankford is the perfect book to read when studying how countries around the world celebrate Christmas. For our evergreen and Christmas tree study, we read the sections on Germany and Canada.
The Tree Book for Kids and Their Grown-ups by Gina Ingoglia is a great addition to your homeschool for nature studies. We've used it previously when studying deciduous trees. In this nature study, we used it to find information about different evergreens. There are also a couple of pages about pinecones that we read as well.
Trees, Leaves, and Bark by Diane L. Burns is another great tree resource. This book also has information on deciduous trees as well as evergreens. This take-along guide also contains several activity ideas, including planting a tree and making a pinecone bird feeder.
The Handbook of Nature Study by Anna Comstock is an invaluable resource for parents. You'll find information to help you understand many nature topics, as well as activities for your kids to do.
Evergreen and Christmas Tree Nature Activities
Nature Walks
We included several nature walks in these studies. Our first nature walk was walking around our local Christmas tree farm to choose our Christmas tree. My youngest, as you might imagine, was in heaven! He was so thrilled to finally get to walk around the farm we pass everyday. We spent some time just walking around the different types of trees, noticing how soft or prickly the needles on each were. We also checked out the rings on the stumps of the trees already cut down. A Christmas tree farm is a wonderful place to walk around and observe evergreens.
Additional walks were around our yard. We have several different kinds of pine trees on our land, so we observed the needles and how they come in bunches. We noticed how the trees grew and what the branches and needles looked like.
Our final walk was part of a pinecone nature study that we added to the end of the evergreen nature study. We walked around our yard again to the various pine trees. However, this time we observed the pinecones as well. We looked at how they grew on the tree. We also gathered pinecones to bring inside for activities.
Clay Pine Needle Ornament
A lovely handcraft activity that you can do is create pine needle ornaments. These ornaments use air dry clay and pine needles. Using an evergreen tree-shaped cookie cutter makes a great design for these ornaments. What a great keepsake to remember for years to come!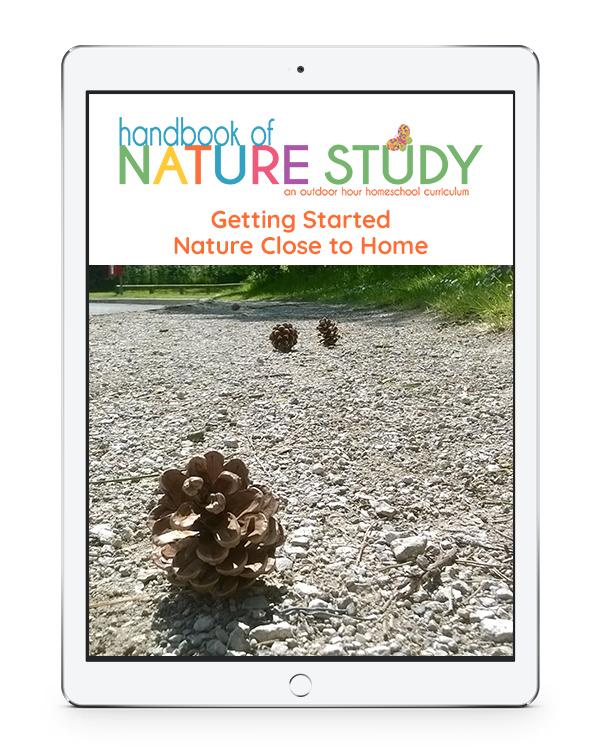 Videos about Evergreen Trees
We watched several different videos about evergreens and pinecones. These were a great way to introduce evergreens before our nature walks.
Nature Journaling
After we took our nature walks, read books about evergreens, and watched a few videos, the kids wrote what they learned in their nature journals. They also illustrated a branch of a pine, spruce, and fir tree. After gathering pinecones in our yard to bring indoors, they used one to illustrate in their journals too.
I love that nature journaling is an easy way to find what children have learned about a nature topic. Not only that, but nature journals also make wonderful books to look back on as children grow.
We just use blank journals for our nature journals, but the notebooking pages from Productive Homeschooling also work great for nature study. There's a set on trees that include evergreens that you could also use for a deciduous tree study.
Adding Art to Nature Study
Another fun activity I like to include as much as possible in our nature studies is art. We might draw in our nature journals like I mentioned. Other times we'll add watercolor or chalk pastels to our nature study. For our evergreen nature study, we used chalk pastels to draw a Christmas tree. I love being a member of the You Are an Artist Clubhouse Membership because I can easily search for a topic we're studying and find a chalk pastel video lesson on that topic. The chalk pastel lessons are perfect for preschoolers up through adults.
Pinecone Experiments and Activities
As part of our evergreen nature study, we added on a pinecone nature study too. The online nature book club mentioned above has a rabbit trail about pinecones, so we watched the video they shared about them. On our nature walk to find pinecones, we gathered several as well.
One of the activities we did with the pinecones was to place a few in a vase of cold water to observe what would happen. The kids noticed after about 15 minutes that they closed up. They correctly realized this was to protect the seeds inside.
Another pinecone activity involved trying to get the seeds out of the pinecone. This is easier to do when the pinecone has dried out a bit, so you may not want to do this one the day you collect the pinecones. Instead, leave them to dry out for a few days. Then you can tap the pinecones upside down to get the seeds out, roll them in a paper, or try to get them out with tweezers.
A final pinecone activity was drawing them in nature journals. It's a great way to combine art with science and help observation skills.
Additional Resources and Activities
Nature Study Resources
Exploring Nature with Children: Above I mentioned the nature book club I used as inspiration for this study. In previous years we have used the Exploring Nature with Children curriculum as a guide for an evergreen nature study. This is a year-long nature study curriculum for children especially aged from toddler through junior high. You can use this curriculum again each year for nature study, delving a little deeper as your kids get older.
Nature Explorers-Constant Conifers: This nature study guide from Our Journey Westward is an in-depth evergreen nature study that you could do anytime of year. It includes ideas for 30 nature walks and over 70 activities that your kids will love. If you'd like to delegate nature study to another teacher, you could also sign up for her No Sweat Nature Study Live classes online. Your kids will enjoy two live classes each month, plus access to prerecorded classes. They are perfect for kids in grades 1-8, and my boys love the classes they've attended.
Additional Pinecone Activities
Pinecone Bird Feeder: These pinecone bird feeders from Natural Beach Living are sure to be a hit with your kids and the birds around your yard.
Pinecone Crafts: You'll find adorable pinecone craft ideas from Teach Beside Me, creating little pinecone animals. Over at Look We're Learning, you can find a cute pinecone snowman craft idea.
Additional Winter Nature Study Ideas
Winter Birds Nature Study
Winter Solstice Study
Animals in Winter/Hibernation Study
As you can see, creating an evergreen nature study can be simple yet fun. Your kids will enjoy nature walks to observe the trees and their pinecones, read books about evergreens and using them for Christmas trees, and enjoy hands-on activities about evergreens and pinecones. It's a great addition to your Christmas school fun, or fun at any time of the year.