Yes, you can still study nature in the winter! Find great winter nature study ideas to add to your homeschool.
When the cold wind blows and the skies are overcast, nature study might be furthest from your mind.
But winter is a wonderful time to do nature study! Some topics, like snow, are obvious perfect matches for a winter nature study. Many other topics make great winter nature study ideas too. Below I share some of the favorites we've enjoyed.
This post may contain affiliate links, which means I may receive a commission, at no extra cost to you, if you make a purchase through a link. Please see my full disclosure for further information.
Winter Nature Study Ideas for Your Homeschool
Don't give up on nature study in the winter. Winter is an amazing time to get outdoors to learn more about nature, but you can also easily bring your winter nature study indoors too.
We keep nature study pretty simple in our homeschool. Usually I try to incorporate it into our morning basket time, which is when my kids learn all together. I'll keep the lessons to around 20 minutes to keep everyone engaged. For each topic, we try to take a nature walk, read a couple of books on the topic, and do an activity or two. Sometimes the activity is writing what was learned in their nature journals.
I've also found curriculum that makes nature study even easier. If you need ideas for topics and activities already planned for you to follow each week, then you'll want to check out Exploring Nature with Children. It's easily adaptable for many ages, and we've loosely followed it for years.
If you'd prefer a nature study curriculum that is literally done for you, then check out No Sweat Nature Study. Members get two lessons each month on a wide variety of nature study topics. My kids love the classes and they've always learned so much in them. You can even try out a free seed dispersal lesson.
Winter Season Nature Study
Of course winter is a perfect time to do a study of the season itself! In this study, you could learn about the winter solstice or do a more general study of this time of year.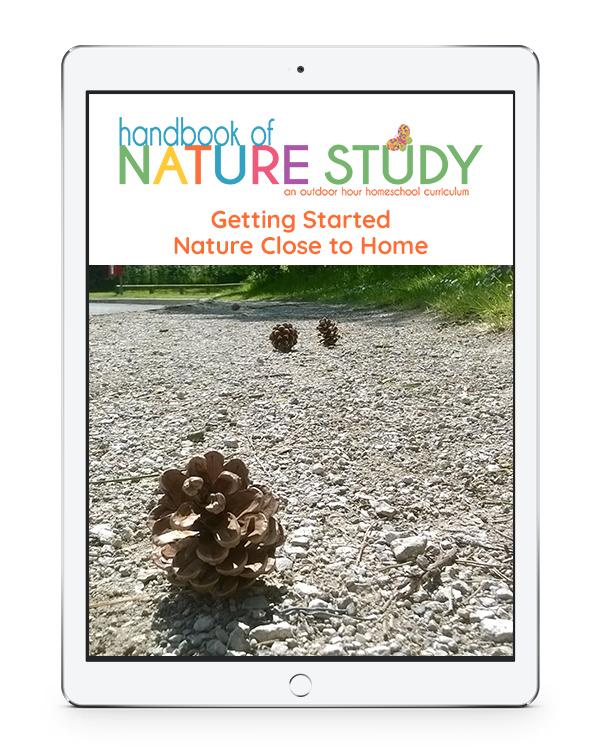 Winter Books & Activities
Since the days are darker, create lanterns with your kids. You could create mason jar lanterns or tin can lanterns.
Take a winter nature walk. Notice the different colors during your walk.
Collect winter items on your walk. Create a winter nature table to take the study indoors.
Add a winter nature study book club to your lessons. This course will also go down rabbit trails of learning about trees, hibernation, snow, and more.
Include art in your nature study. These winter chalk pastel lessons are great for all ages.
Evergreen Nature Study
Evergreens are an especially fun winter nature study idea. We've enjoyed an evergreen nature study before Christmas and also in January. Naturally an evergreen, or conifer, study could lead into a pinecone nature study too. If your evergreen study takes place in December, then you could turn it into a Christmas tree study.
Evergreen Books and Activities
If you can, take a nature walk at a Christmas tree farm. You could observe tree rings of already-cut trees. If that won't work, then take a nature walk in an area with evergreens. Notice the differences in the trees' needles and pinecones.
Gather pinecones and/or fallen branches on a nature walk. Observe indoors.
Use a tree field guide to learn how to tell the difference between types of evergreens. Illustrate the differences in a nature journal.
Use this ready-to-go conifer study for more ideas.
Winter Birds Nature Study
One of my favorite things to do each day is observe the birds at my feeders in the backyard. We get many birds there all through the year. But one of my absolute favorite times of year to watch the birds is in the winter. Winter is when the bluebirds return daily, as well as cardinals, blue jays, and many different woodpeckers.
Winter Bird Books & Activities
Feed the birds. Here are four cute diy bird feeder ideas. We have so many birds come to our feeders daily, especially in the winter when food is more scarce.
If you place a feeder near a window, you can observe the birds from a window without disturbing them. Your kids could keep a tally of different types of birds, use a bird field guide to identify them, or add a page about the birds to their nature journals.
Use chalk pastels to paint cardinals in snow. We have a family of cardinals in our yard that we love watching in the winter.
Owl Nature Study
As a continuation of a winter bird study, owls make another great winter nature topic. An owl nature study is a great way to learn more about these nocturnal creatures. You and your kids probably don't get too many chances to observe them naturally.
Owl Books & Activities
Learn more about what owls eat by dissecting an owl pellet. We did this several years ago and it was quite memorable! It's also a great introduction into dissection.
Enjoy a free little owl chalk pastel lesson drawing a little owl.
Have your kids try sketching an owl in their nature journals. They can also add information they learned while studying owls.
Hibernation/Animals in Winter
Kids love learning about animals, so a great winter nature study idea is to learn about what animals do in winter. Hibernation is an interesting topic for kids to learn.
Books & Activities about Hibernation or Animals in Winter
Take a nature walk to look for animal tracks. Try to figure out to which animal the tracks belong.
Find many more activities and information in this nature guide for animals in winter.
Snow Nature Study
No winter nature study is complete without discussing snow! Your kids will love learning about snow whether you live where it snows or not. You'll definitely want to include a snow nature study to your winter lessons.
Snow Books & Activities
If you live where it snows, put a piece of black construction paper outside as it snows. Then use a magnifying glass to look closer at each snowflake.
A tasty activity your kids will enjoy is also a great STEM activity. Build a snowflake using marshmallows and toothpicks.
Find more activities in this snow & ice nature guide.
Deer Nature Study
I find deer to be such interesting creatures. Fortunately, we get deer in our yard from time to time and enjoy observing them when we can. It's hard to find many books about deer, but the animal still makes a nice study.
Books & Activities about Deer
Since books about deer can be hard to find, you might find this deer unit study helpful.
Your kids can draw and label the parts of a deer in their nature journals. They can write down information they learn in books you read about deer.
If you live near woods or can see deer nearby, then try to observe them and write about the observations in a nature journal. If not, this video about deer is very informative and shows deer in the wild.
Moon Study
Wintertime is a good time to study the sky. Part of that study that kids enjoy is learning about the moon.
Moon Books & Activities
A tasty and fun way to learn about moon phases is by using Oreos to show the phases of the moon. Your kids can scrape off the cream center as needed to create each phase. As a non-food alternative, you could use felt or have your kids paint the phases using watercolors.
Go outside when it's dark on a clear night to observe the moon.
Studying the moon is also a fun time to talk about space travel, constellations, or the solar system.
Learn about Arctic/Antarctic Animals
Winter is also a good time to learn more about the polar regions and the animals that call it home.
Books about Polar Bears
Books about Penguins
Let your children observe the importance of blubber to help polar animals stay warm. Add some shortening to a plastic zip baggie. Then have your kids put one hand in that baggie and the other in an empty baggie. Place both hands in a bowl of ice water and note the difference in how both hands feel.
Write about the similarities and differences in polar animals using a Venn diagram.
As you study some or all of the above ideas, you may want to use these winter nature study printables so your kids can write down what they learn.
Winter doesn't mean that outdoor learning takes a break. Instead, embrace the season by learning more about fun winter nature study topics. Your kids will love learning more about the snow and the moon, how animals survive winter, and winter backyard birds and owls. Use the slower season to enjoy all the fun winter has to offer.