You don't need to spend hundreds on fancy homeschool preschool supplies. In this post you'll find the best preschool materials for homeschooling.
You've decided to start teaching your preschooler at home. That's great!
But now you may be wondering what supplies you need to get to help you homeschool preschool.
Luckily you won't need to buy a lot of homeschool preschool supplies to teach your preschooler effectively. Below I share my favorite preschool materials for homeschooling.
This post may contain affiliate links, which means I may receive a commission, at no extra cost to you, if you make a purchase through a link. Please see my full disclosure for further information.
My favorite supplies for teaching preschool at home are those which allow preschoolers to learn through play. I don't begin formal lessons with my kids until they are around 5-6 years old. So our preschool time is spent learning the alphabet, numbers, and the world around us through fun, hands-on activities.
My preschoolers enjoy puzzles and playdough. They go on nature walks and spend lots of time playing outside. So in the preschool materials listed below, you'll find supplies that help us do that. You won't find workbooks and flashcards, but I will share some preschool curriculum that help us with hands-on learning.
This post is the third in a series on how to begin teaching preschool at home. If you missed the other posts, you can find them below. At the end of this post, you'll also find a link to grab a Preschool at Home Quick Start Guide to help you plan and prepare.
Teaching Preschool at Home Series
9 Must Have Supplies for Teaching Preschool at Home Easily (this post)
Preschool Materials for Homeschooling
Homeschool preschool supplies that include lots of great books and fun, hands-on activities will encourage a love of learning in your preschooler.
1. Books
Quality books are an absolute must when teaching your preschooler at home. They help with language development, building vocabulary and listening skills, and learning concepts taught in the book.
Board books, hardcover or paperback books, fiction, nonfiction, picture books and small chapter books…they are all wonderful additions to a home. You could gather books that go along with a monthly preschool theme or are seasonal in a basket that you read from each day.
You can find books at your local library, or you could begin building up a home library. To do this, you can buy books yourself at a bookstore, thrift stores, or garage sales… You could also ask for books as gifts for holidays or birthdays.
Make sure your preschooler has access to books. Even before they can read, young children learn lots of prereading skills from books.
When my preschooler is really enjoying a certain book, I like to create activities based on it, like introducing measurement after reading The Foot Book or counting after reading Ten Apples Up on Top, both by Dr. Seuss. The Before Five in a Row curriculum is fantastic for helping come up with ideas for literature-based activities.
2. Playdough and playdough accessories
Playdough is another must when you have a preschooler at home. Playing with playdough gives preschoolers a fun way to strengthen their hands muscles, which is something they'll need for writing.
Fun playdough accessories add to the fun and work on different preschool skills at the same time. I love this set of playdough sculpting tools from Melissa and Doug. We also enjoy using playdough mats for practicing math and language skills, like this set of free alphabet playdough mats from All About Learning.
I like to make my own playdough every couple of months and just keep it in plastic zippered baggies. That makes it easy to choose colors for the season or to go with activities we're doing. I'll put it on a tray with a few rolling tools, cookie cutters, or playdough activity mats as a nice little introduction to play.
3. Alphabet letter pieces
Having alphabet letters on hand, whether they're magnetic or wooden ones from a puzzle, is a great way to introduce your preschooler to the alphabet. You can put them in a basket or on the fridge for your child to explore on their own, add a second set or uppercase/lowercase for matching letters, or add them to other learning activities like sensory bins. We also have a set of letter stampers that are often used in the preschool and kindergarten years.
As your child grows, you can also use them for learning how to read and spell words. I always try to purchase supplies that can be used for several activities and/or over several years of development. Alphabet letters will be used for years so they are definitely a good investment and much-needed preschool supply.
4. Puzzles
Puzzles for different ability levels is another great preschool supply to have at home. When your kids are little, start with wooden puzzles with only a few pieces and large knobs to grab. Then gradually move to puzzles with more pieces and smaller knobs. Then move to floor puzzles with larger pieces, and finally to table top puzzles with smaller pieces. I love the Melissa and Doug brand for many preschool supplies and their puzzles are definitely ones I like to have.
5. Math counters
Counters of any kind are a must when it comes to teaching preschoolers math. They make it easy to count as your child can touch each counter as they say the number.
We have lots of different types of counters: colored bears, buttons, and mini novelty erasers. It's helpful to have a couple of different kinds of counters if you can. Also try to get something you can use to teach other skills too, like things you can sort or classify.
6. Art supplies
Art supplies make teaching preschool so much fun. I recommend having a big variety of supplies. Crayons, markers, and colored pencils are good to have, as well as lots of types and colors of paper. Scissors and glue are important to have around for activities and crafts too.
Get watercolor paints and paintbrushes, chalk pastels, and even sidewalk chalk. Sculpting clay is great for projects you want to dry and keep. If your family enjoys crafts, then supplies like felt, sequins, stickers, and pompoms are good.
We keep craft supplies that aren't used much in plastic storage containers in the garage. For the rest of our art supplies that we use more often, we use a three-tiered cart on wheels that is in a corner of our homeschool room. Having it out where the kids can see it encourages them to use the supplies.
7. Science supplies
When you think of homeschool preschool supplies, you may not immediately think of science materials, but they are also important to have. Kids love learning about the world around them. One fun way to do this is through nature study. My preschooler loves bringing a magnifying glass out with him to explore smaller objects that he finds.
Other good materials to explore science include nature journals. These can simply be a blank notebook that your preschooler can draw in. I also like to keep a balance out for my preschooler to explore measurement. We also have lots of picture books, both fiction and nonfiction, on a variety of science topics. We use these with our nature study.
If you aren't sure what topics to study, you should get Exploring Nature with Children. It's a wonderful curriculum to use year after year that has weekly nature study topics including books to read, activity ideas, and even poetry.
8. Dry erase board and markers
A dry erase board is another supply that is great for teaching preschool. My preschooler loves to use one for practicing writing, drawing, and playing with magnetic pieces. Dry erase boards come in lots of sizes. We have a big one on the wall of our homeschool room that I mostly use with my older kids. We also have several lap-size boards.
You'll want to get dry erase markers and erasers for them too. A dry erase board that is also magnetic gives you versatility. You can use it with magnetic letters or numbers.
9. Online educational classes
Online Music Courses
Preschoolers love music but it's not always easy to know how to introduce your child to classical music. Clap for Classics music program helps you do that. They offer a variety of online music courses that are centered around classical music pieces. Also, they offer a yearly membership that includes themed monthly courses with live Zoom classes each week.
A fun, interactive way to introduce classical music to your preschooler is through Clap for Classics! music courses. These are ideal for children ages 0-8 and range from single courses to a monthly membership that can include a weekly live class. Find out more and sign up for a free 5 Under 5 Musical Play Series to give it a try!
Video Art Lessons
If you aren't confident in your artistic ability, you may be unsure how to introduce art to your preschooler. A fun way we've done this is through online classes. For your preschooler, you'll find preschool lessons just for them. With the You Are an Artist clubhouse membership, you have access to hundreds of video lessons for a variety of ages. The membership is a great way to include art classes for everyone when you're teaching multiple ages.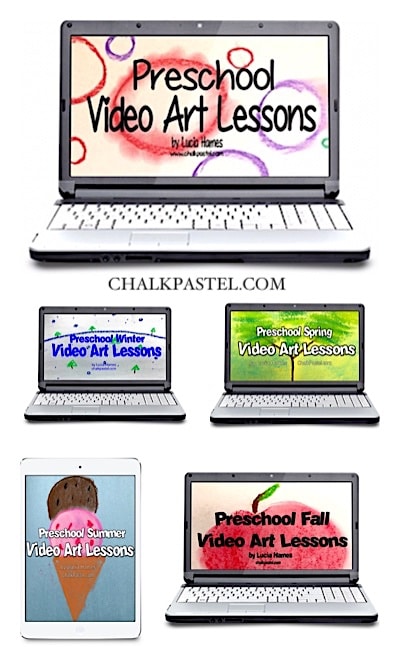 Homeschool Preschool Supplies for Mom
10. Printer
A printer is a good homeschool supply for mom. If you use a learning binder with printables for your preschooler, then a printer is a must. Printers are also good for printing playdough activity mats, sheets that go with hands-on activities, or small posters to hang on the wall.
11. Laminator
Another must have supply that goes along with your printer is a laminator. You'll want to laminate any printables that will be used with playdough. You can also laminate items that you want to be able to reuse or those that you don't want torn or wrinkled. Dry erase markers work well on laminated papers, so they are great for practicing writing. An alternative to laminating if you wouldn't use one enough to purchase it is to put papers in page protectors.
To help you get started teaching preschool at home, I've created a Preschool at Home quick start guide. This guide includes over forty ideas for preschool themes, as well as planning pages to plan your activities and books by week and month. It's a perfect way to get ready to preschool at home.
Having good preschool materials for homeschooling will make teaching your preschooler at home so much easier. Use supplies that help your preschool learn skills through play and hands-on activities. When your preschooler has fun learning the alphabet and other preschool skills, that sets the stage for a lifetime love of learning and enjoying school.