Your kids will love this simple yet fascinating pumpkin nature study with wonderful pumpkin books and activities. It's a perfect addition to fall!
Fall and pumpkins are pretty unexchangeable, aren't they? It's impossible to think of fall and not think of pumpkins. So adding a pumpkin nature study to your fall lessons makes perfect sense.
This post may contain affiliate links, which means I may receive a commission, at no extra cost to you, if you make a purchase through a link. Please see my full disclosure for further information.
How to Create a Pumpkin Study
We like to loosely follow the Exploring Nature with Children curriculum for our nature studies. The curriculum manual is quite inexpensive and can be used year after year with a wide age range of children. One of the October weeks of study is pumpkins. Pumpkins are a fun topic of study for a variety of ages that we like to learn about each year.
When I create our nature studies, I like to keep it simple. We are not big into crafts at our house. We tend to do more handwork or artistic activities instead. For our nature topics, I usually choose 3-4 books and plan a few activities based on them. We enjoy including our nature study in our morning basket time, giving about 20-30 minutes total to the book and/or activity for that day.
What a Simple Nature Study Looks Like
Are you someone who likes to know how others do something in order to figure out how to make it work for you? I'm like that. I love seeing day in the life posts to get a glimpse into other homeschooling homes. So how about I explain how we go through our nature study?
First, I look at our schedule and decide on 2-3 days that we'd be able to devote to nature study. Then I figure out which books I'd like to read and the order in which to read them. After that, I think of a few activities that go along with the books or that my kids would enjoy. I keep it very simple. I've learned that when I try to create an elaborate plan that I either don't do it, the kids begin to squirm and play around, or it gets cut short because…well, life happens.
Our Pumpkin Nature Study
The weekend before: We went to get our pumpkins the weekend before our pumpkin study. This freed up some homeschool time, plus my husband was able to join us. Fortunately, we have several pumpkin patches nearby to choose from.
Day 1: On day 1, I read aloud The Pumpkin Book by Gail Gibbons. Her books are my absolute favorites for nature study. She includes so much information about the topic. Plus her books are good for a wide age range. After reading the story, we observed our pumpkins. The kids wrote down information about their pumpkin in their nature journal. They also sketched a picture of their pumpkin and labeled the parts.
Day 2: The second day we did our pumpkin study included a reading of the book, From Seed to Pumpkin. This is another very informative book with great illustrations. After reading it, the kids and I did a chalk pastel pumpkin lesson. We often include these lessons in our nature study because everyone from my preschooler on up to me can participate.
Later on that day, we carved out the top on an extra pumpkin. The kids observed the inside of a pumpkin and also took turns pulling out the seeds and pulp. That evening, I washed and dried the pumpkin seeds to use for the next day's lesson.
Day 3: On the last day of the pumpkin study I read How Many Seeds in a Pumpkin. Naturally, the perfect activity to follow is counting the seeds from a pumpkin. On day 2 before we cut into the pumpkin, I had the boys guess how many seeds they thought would be in the pumpkin.
Then after our read aloud, they counted them. The book shows kids how to skip count by 2s, 5s, and 10s to make the counting easier. So I let the boys choose how they wanted to group the seeds for counting. This was also a very good lesson for my preschooler. He helped count the seeds that went into each group.
We ended up roasting them for a wonderful snack when we were done. As they were in the oven, the boys painted their pumpkins. If we leave carved pumpkins outside, wildlife will get to them. So as an alternative, the kids paint them.
Good Books for Nature Study
Julia Rothman Collection: Nature Anatomy, Food Anatomy, Farm Anatomy: These books are not only beautiful to look at, but they also hold so much wonderful information about the world around us. I can always find information about a nature study topic in one of these three books. Plus the collection of all three comes with amazing prints as well.
Handbook of Nature Study by Anna Comstock: The handbook is a resource book for mom, not necessarily one the kids will use unless they are older. This book gives quite a bit of information about nature topics, plus lesson ideas to further learning as well.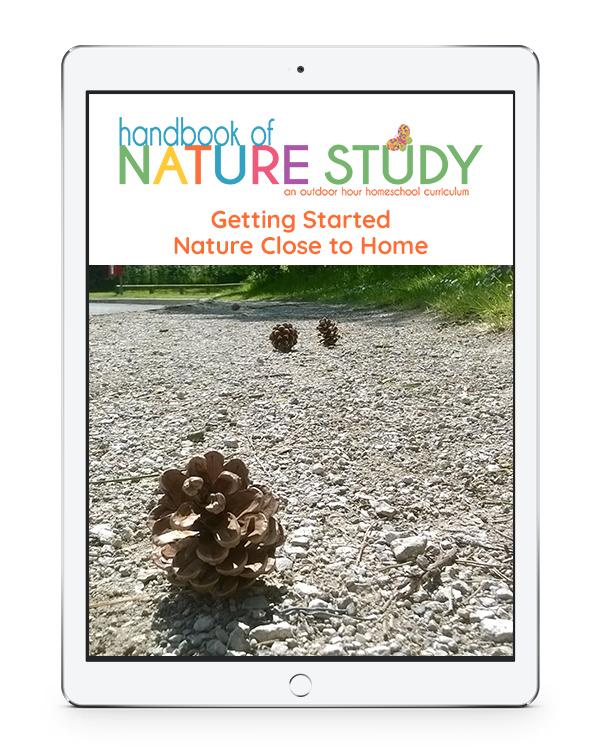 Fun Pumpkin Books
When I select our books for nature study, I try to choose nonfiction books when possible. That isn't to say that we don't read fiction ones too. I keep any other books we have related to our topic in a nature study book basket on the floor near our homeschool room couch. We have so many wonderful books about pumpkins that the kids and I will read, but I limit the books read during nature study itself to those which share information about the topic.
The Pumpkin Book by Gail Gibbons: I love using books by Gail Gibbons for our nature studies. They always contain so much wonderful information about the topic, and it's presented in a way that keeps kids interested. I also like that it's easy to add in my own knowledge about the topic as we're reading aloud. In this book, she explains how pumpkin seeds are sown and harvested, as well as sharing how they are used for Halloween.
Pumpkin Pumpkin by Jeanne Titherington: This book is great for little kids. I read it to my preschooler. The illustrations are so simple and beautiful, looking like they were drawn with crayon. The book shares how a child planted a seed and how it grew, showing the life cycle of a pumpkin.
From Seed to Pumpkin by Wendy Pfeffer: This book also shares the life cycle of a pumpkin, explaining how the plant gets its food and what it looks like. It's an easy read for elementary kids, but also a great read aloud.
How Many Seeds in a Pumpkin? by Margaret McNamara: This book is perfect to read before carving pumpkins. A teacher asks his kids to guess how many seeds are in a pumpkin, with surprising results. You can carve a pumpkin afterward and have your kids guess how many seeds will be inside. The book also shares how to use skip counting to easily count the seeds.
Pumpkin Activities Your Kids Will Love
Visiting a Pumpkin Patch
One of the nature study activities we try to do is a short nature walk. A great place to visit during a pumpkin study is a pumpkin patch! Kids can see firsthand where and how a pumpkin grows, and even choose one to take home for more fun activities.
Pumpkin Art
The kids and I love adding art to our homeschool day as much as we can. We really enjoyed the chalk pastel pumpkin lessons we did both during the nature study and just for some afternoon fun. Additionally, we had fun using watercolors to paint pumpkins. I love combining art with our nature studies. I feel that it forces kids to slow down and really observe nature.
Nature Journaling
Using a nature journal is a great way for your kids to share what they've learned about a nature topic. Many times we'll save the journaling for the end of the study, so the kids can write down everything they learned. However, for our pumpkin study, I wanted them to journal first, before we cut the pumpkins open or decorated them. Nature journals can be as simple or complex as the child wants, but I do expect my kids put effort into their journals.
Counting Pumpkin Seeds
If your kids like messes and goo, this is the perfect activity. Have the kids scoop out the seeds and pulp, then rinse the seeds and let dry. Then the kids can count them. Having them group the seeds into groups of 2, 5, or 10 will incorporate some math skip counting into your nature study. If you have more than one pumpkin, you could also have kids guess which pumpkin has the most seeds inside.
Decorating Pumpkins
A great final pumpkin activity is to decorate your pumpkin! This can mean carving your pumpkin or simply decorating it with tempera paint. If you'd like to combine art history with your nature study, this Yayoi Kusama study is the perfect way to do that before you decorate the pumpkins.
Pumpkin-Themed Preschool Learning
In our homeschool, I like to have Montessori-style shelving with hands-on activities for my preschoolers. I try to theme some of them to our current studies. When studying pumpkins, these Pumpkin Alphabet Matching cards are perfect for helping your preschooler learn the alphabet. They can also practice counting skills with these Pumpkin Counting clip cards.
Fall is such a fun time for nature study! You can find so many fall nature study ideas for you and your kids to enjoy.
Pumpkins are such a fun nature study topic that you could enjoy your pumpkin study all month! There are so many wonderful pumpkin books to choose from to learn more about pumpkins. Kids can enjoy growing their own pumpkins in a garden or visiting a pumpkin patch for firsthand observations of how they grow. Many wonderfully fun art activities can follow the read alouds, including chalk pastels, watercolor paints, or even painting the actual pumpkins. Hands-on experiences like these will have your kids looking forward to pumpkin week every year!