Enjoying poetry teatime in your homeschool is a beautiful and relaxing way to introduce your children to poetry.
Close your eyes.
Imagine all of your kids sitting around the kitchen table, sipping on tea and eating cookies, listening intently as you read a poem by Robert Frost.
Are you beginning to wonder if you're dreaming? That there's no way your kids would be sitting quietly while you read a poem! Drinking tea?!
You can believe it. And it's easier than you think.
This post may contain affiliate links, which means I may receive a commission, at no extra cost to you, if you make a purchase through a link. Please see my full disclosure for further information.
Yes, your kids can love poetry.
How?
Through a poetry teatime. A poetry teatime is a wonderfully relaxing way to enjoy poetry with your kids.
What is Poetry Teatime?
If you don't enjoy poetry yourself, think back to how you were introduced to it. Were you forced to read it in a high school Literature class, analyzing it stanza by stanza?
That is not what we're going to do in a poetry teatime.
A poetry teatime is simply a time to gather your children together, grab a few yummy snacks, and read a poem or two purely for enjoyment.
Yes, it's that simple.
Why Should I Do a Poetry Teatime with My Kids?
Would you like your children to enjoy poetry, instead of dreading it? Many times when people dislike poetry, it's because of the way it was introduced to them. For many of us, that was during a class at school. Instead of just reading the poem for enjoyment, we were forced to analyze it for a grade, interpreting what the poet meant, and perhaps memorize it to recite in front of the class. Shudder!
On the contrary, when you introduce poetry to your children through a poetry teatime, you are helping them develop a love for just the poem itself. You will help them realize how lovely poetry can be by reading it slowly over tea and snacks. Your children will not have feelings of anxiety when they think of poetry. Instead, they will think of poetry with fondness.
Your children will remember these shared teatimes, and it will inspire them to continue to read poetry. They will look forward to each teatime, excited to share this special time with you.
How Do I Begin a Poetry Teatime?
Beginning a poetry teatime is pretty simple. You really only need three things: poetry, tea, and a snack. Well, I guess you need your children as well, but I figure that is a given.
When Does It Work Best?
The best time to schedule a teatime really depends on your family. If you are a homeschooling family, you could add a poetry teatime to your homeschool day. Some families choose to do it on a weekday morning. This would make a lovely addition to your homeschool morning basket time. You could choose to do a teatime every morning or just once a week.
Another perfect time to add in a teatime to your homeschool day is in the afternoon, after the school day is over. You and your kids can take your time and really enjoy the poetry and time spent together. Again, you can choose to do this daily or just once a week.
What if you're not a homeschool family? Think about a time that is free on your schedule. Perhaps a teatime would be a nice break after picking the kids up from school, before they start their homework. Or maybe you could share a lovely and relaxed Saturday morning teatime.
Poetry Books to Use
You can use any poems you'd like, but I personally prefer poetry books. They give lots of choices of poems, plus they make it easy to study a particular poet for a month, or even all year, if you use poetry books about a single poet. You could also choose a book of funny poems, poems about nature, or just print off single poems you find online that you like.
My favorite collection of poetry books are the Poetry for Young People series. We've enjoyed the ones on Robert Louis Stevenson, Robert Frost, Henry Wadsworth Longfellow, and William Shakespeare so far.
Snacks to Make
There is nothing in particular that you have to have at a poetry teatime. You can make sandwiches, scones, desserts, quiche, or any combination of those. You can also just grab something at the store. If your teatime is during the morning or afternoon, then you may just want to have a light snack. If you are including your teatime during lunch, then you'll want to include foods like sandwiches.
Additional Poetry Teatime Ideas
Tea, of course, is the preferred drink. If you or your kids have never tried it, why not give it a chance? Try a flavored tea. My kids enjoy teas with fruity or cinnamon flavors.
However, you may be reading this thinking that there's no way your kids would drink tea–or maybe even you wouldn't. That's ok, you can still do a teatime! It's not the tea but the time spent together enjoying the poetry that is important. I'm not a big fan of tea, but I find if I add enough milk, honey and lemon juice to it, it's not so bad!
If you or your kids don't like tea, then make hot chocolate or lemonade instead. Or even just fruit juice. They can still drink it out of teacups if you'd like. Many times around Christmas, we'll make hot chocolate and drink it while eating Christmas cookies and reading poetry about the holiday.
In the summer, you could take your teatime outside. Grab a blanket and some lemonade. Read books about summer, the beach, or insects under the shade of a tree.
Fall is a perfect season to enjoy apple cider during your teatime. We enjoy apple crisp or another fruity dessert during this time. You could serve the cider hot or chilled. Poetry about fall, football, and nature is good this time of year.
Check out this post on twenty-eight resources to help you when teaching and writing poetry in your homeschool.
Enjoy a fun, free poetry challenge from Hide the Chocolate that will show you how to include poetry in your homeschool day in just 10 minutes a day.
Are you looking for something beyond poetry for teatime? Why not do some art during the time instead? These teatime chalk pastel art lessons are easy enough for your youngest kids, but will hold the interest of your oldest kids as well.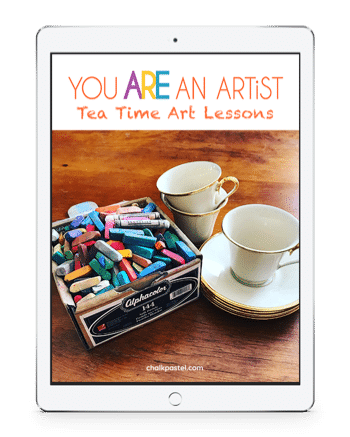 How My Family Enjoys Poetry Teatime
In my house, we like to save our poetry teatime for Friday afternoons. I find it's the perfect way to end a busy homeschool week. My kids attend a local art class every other Friday morning through the school year. While they are there, I will shop for our snacks. I've also made snacks as well. But I find that since buying them is easier, I'm more likely to do a teatime than if I have to spend the afternoon baking.
We prefer to do our teatime as a late lunch, so I'll usually grab something to make sandwiches and a dessert. My children absolutely love a chicken salad I buy at a local deli, so that's pretty much exclusively what I do now. I'll put it on croissants from the bakery. Simple yet delicious! I also get a small dessert, such as little cookies, brownies, or tarts.
Once we're home from art class, the boys will get the table ready while I get the refreshments ready. I have a plain white tablecloth folded and ready in a nearby curio that they set out first. Then they add a candelabra that I found at a thrift store and spray painted black. We add beeswax candles that we made a couple of years ago, but you can certainly just use a single candle from the store in any candleholder you have. I find the candles are a beautiful touch, and the kids love them.
Our china was another thrift store find. I was fortunate enough to find an almost complete set for $15! I love that not only is the set incredibly pretty, but that I don't have to worry about my kids using it. There's no way I'd feel comfortable letting my 3-year-old use my deceased grandmother's china!
While the boys are setting the table, I put the chicken salad on croissants while the tea is steeping. I also cut up the dessert. I set all of this on a tiered stand I found on Amazon. Usually I just make one tea for all of us and fill my teapot, but sometimes I'll let the kids choose their tea. We put milk and honey on the table to add to the tea as well.
After we're all sitting and ready, we spend a few minutes just enjoying our tea and sandwiches. We like to chat a little about the week while we eat. After I've finished my sandwich, I'll let the boys start on dessert while I read poems. Most of the time I read from a poetry book, though occasionally I'll find a poem I like online and print that off instead.
Our teatimes usually last around 30 minutes. It really just depends on how calm the boys are. After we finish, they'll help me clear the table. It's all pretty simple, but it's one of their favorite parts of our homeschool. Simple yet effective!
Tips for Poetry Teatime Success
Don't put too high of expectations on this time; just enjoy this time spent with your kids.
Be flexible! If your kids don't like tea, then make an alternative drink. If your kids aren't into the poem, try a new poet next time.
Keep it simple! The easier something is, the more likely we'll continue it.
Keep it short. Just enjoy the snacks and one or two poems. The longer it goes, especially if your kids are quite young, the more likely kids will tire out and start to act up.
Keep it fun and light-hearted! This is a time to enjoy the experience, not analyze a poem to death.
I encourage you to give poetry teatime a try! Find a poem online or dig out that poetry book you bought years ago. Heat up a drink while you open snacks from the store or bake up a batch of cookies. Then just sit and enjoy this gentle and lovely experience with your children, reading poetry.
Have you done poetry teatime with your children? If so, please share any special tips you have in the comments below.